Estimated reading time: 3-4 minutes
For those unfamiliar with artist Jimmie Jones, get ready—his work will steal your heart.
A native born and raised in Cedar City, Jones specialized in landscape paintings of the American Southwest. He was instrumental in transforming the Braithwaite Gallery at Southern Utah University into an art museum and donated his entire personal collection to SUU before his death in 2009. Among his donations were 14 paintings of Zion and The Grand Canyon, as well as his Rockville home – which eventually led to the Southern Utah Museum of Art (SUMA).
Because of his contributions to the museum and community, SUMA is proud to offer a semi-permanent art installation in his name, beginning with the exhibit, "Jimmie Jones: My Passion, My Odyssey."
"For the past several years, we have wanted to protect Jimmie Jones' work and ensure that it is preserved for future generations, which has limited its availability to the public," Jessica Kinsey.
said the Executive Director of SUMA. "However, staff helped identify ways to exhibit his work through smaller rotations that will make it more accessible while keeping the preservation at the forefront of SUMA's exhibition practices. This gallery space will be a great way to honor the legacy of Jimmie Jones."
The Jimmie F. Jones Gallery will exhibit Jones' work, the work of other regional artists and works from his personal collection, which includes his brother Scott Jones' collection of Fillmore West Rock posters.
What you will see in the first exhibition
The first exhibit, "Jimmie Jones: My Passion, My Odyssey," includes six of his original paintings and shows various scenes from a Grand Canyon landscape. Jones once said, "The Grand Canyon is my passion now. It's like a boyfriend you can't get enough of. It's my odyssey."
Although he painted many other landscapes, the Grand Canyon seems to have been his favorite. Patrons will appreciate the space, depth and light he captures in his depictions of this famous red rock region.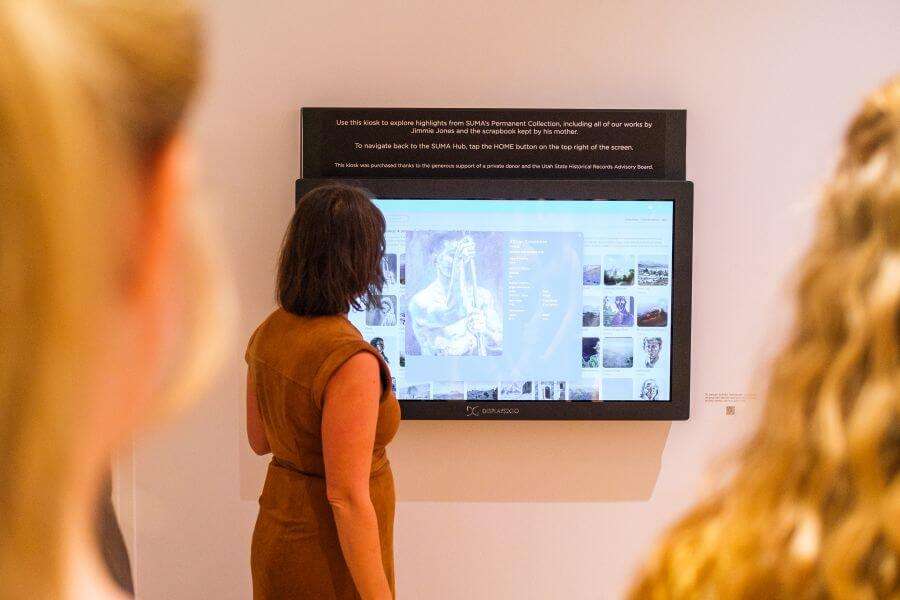 Making art more accessible
SUMA recently installed a permanent touchscreen kiosk next to the Jimmie F. Jones Gallery so visitors can see more of his work – including items not currently on display.
"This device will allow patrons to navigate through the Museum's CatalogIt hub and explore our collection," said James Culbertson, SUMA curator. "Some of the collections we have at the Hub include the most recent Jones retrospective from 2020, a variety of rock and roll posters collected by Scott Jones, and a book of miscellaneous items kept by Jones' mother, Thelma."
Future digital galleries from the museum will also be available in the coming months.
Visit in person or online
"Jimmie Jones: My Passion, My Odyssey" runs through May 17 at SUMA. Admission is free and open to the public Monday through Saturday from 10:00 a.m. to 6:00 p.m. But if you can't attend in person, don't worry—you can view Jones' work online through the museum's CatalogIt Hub.
For more information about the Jimmie F. Jones Gallery, the new kiosk, exhibits and events, visit SUMA's website at suu.edu/suma.
x
More stories that might interest you